Presentation made to a symposium titled Documenting Mortality in Conflicts, organised by WHO/CRED with the Harvard Humanitarian Initiative, and held in Brussels, 6-7 November 2008.
This slightly amended web version (published 2 February 2009) has been updated to reflect the latest statistics in the IBC database.
Data gathered in the past 1,004 days — Summary
Jan 2006–Sep 2008
51,433 news stories analysed.
51,433 news stories analysed.
12,934 "IBC incident" database entries created, of which 49 were cumulative monthly entries.
55,486–59,553 violent civilian deaths recorded (7,123–7,880 in cumulatives), of which 3,156 were deaths of identified individuals.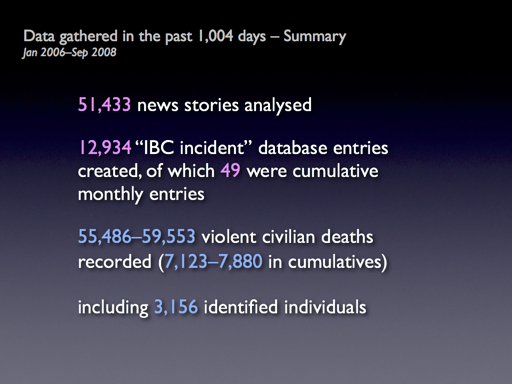 For this presentation I've chosen to describe the almost exactly 1,000-day period of our work between January 2006 and September 2008.
That work — to briefly quote from our website — involves monitoring commercial media and NGO-based reports, along with official records that have been released into the public domain, for information on civilians killed in violence. Reports encompass specific, incident based accounts as well as cumulative figures from hospitals, morgues, and other documentary data-gathering agencies.
So, to begin, a very brief overview of IBC's work in this period, during which:
we have collected, organised, analysed and archived well over 51,000 news stories;
created about 13,000 database entries, of which 49 were cumulatives describing aggregate deaths by month;
recorded up to 59,553 violent civilian deaths, of which some 7,900 were in cumulative entries;
and been able to extract and publish identifying information for 3,156 of these civilian deaths.