The public record of violent deaths following the 2003 invasion of Iraq
Far from being unknowable, the number of civilians killed by UK forces recorded by IBC is about 300.

16 Apr 2014

11 years on and Iraq is officially at peace. Yet the lines between peace and war have become so blurred, that doubt is cast on both past statements and current realities.

19 Mar 2014
Iraq Body Count maintains the world's largest public database of violent civilian deaths since the 2003 invasion, as well as separate running total which includes combatants.
IBC's data is drawn from cross-checked media reports, hospital, morgue, NGO and official figures (see About IBC). You can contribute to IBC's work in several ways, including with a donation.
Key IBC publications
External links
"We don't do body counts"
General Tommy Franks
Iraq Body Count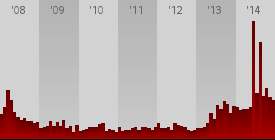 View database
Recent events
Sunday 20 April: 30 killed
Baghdad: 10 by car bombs, gunfire.
Samawah: 5 by car bombs.
Asriya: 3 by car bomb.
Al-Rashed: 3 by IED.
Hamam al-Alil: 2 policemen by gunfire.
Heet: 1 policeman by gunfire.
Falluja: 1 by shelling.
Ramadi: 1 by shelling.
Taji: 1 by gunfire.
Wadi Hajar: 2 policemen by IED.
Baiji: 1 body.
APRIL CASUALTIES SO FAR: 645 CIVILIANS KILLED.
Saturday 19 April: 40 killed
Baghdad: 3 killed by bombs, 3 bodies.
Ramadi: 8 by shelling, 3 Sahwa members in clashes.
Falluja: 1 by shelling.
Karma: 4 by shelling.
Tikrit: 5 by gunfire.
Basra: 2 bodies.
Baquba: 1 body.
Mosul: 5 by gunfire, IED.
Nasiriya: 5 family members by gunfire.
APRIL CASUALTIES SO FAR: 615 CIVILIANS KILLED.

More