Presentation made to a panel discussion on "Civilian Deaths in Iraq: Quantitative Estimates and Policy Implications," held at the United States Institute for Peace (USIP), Washington DC, 10 Jan 2007.
What IBC does:
Records civilian deaths on a daily basis
Analyses media reports (including official and NGO data)
Provides an irrefutable baseline figure
Corroborates each death through basic identifiers (date, place, etc.)
Stores data on 18 variables where available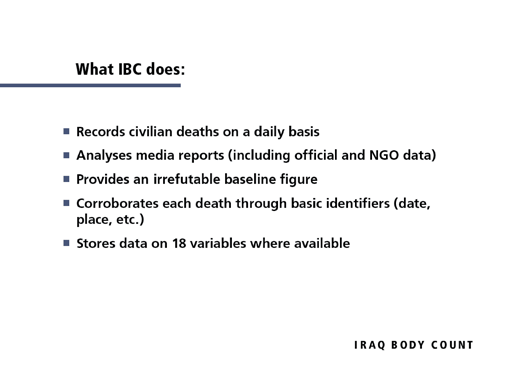 What IBC does is provide a detailed day-by-day record of violent conflict-related civilian deaths that have come to public light through press and media reporting. This includes reports from official agencies and NGOs. This work provides a firm baseline, for which basic factual corroboration is available. This typically includes date and place of death – often down to a specific time of day at a specific location.