Presentation made to a panel discussion on "Civilian Deaths in Iraq: Quantitative Estimates and Policy Implications," held at the United States Institute for Peace (USIP), Washington DC, 10 Jan 2007.
WWW.IRAQBODYCOUNT.ORG
Not only a 'number' — also a memorial to each victim.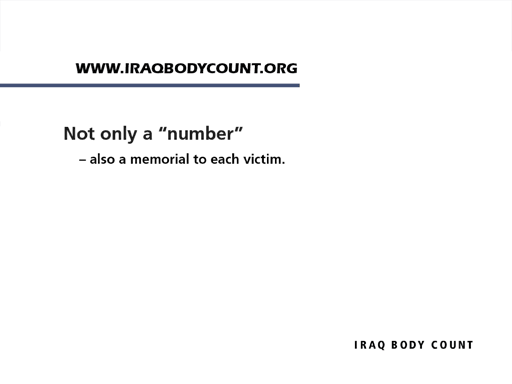 As such, IBC is not just a number. Detailed information about the circumstances of each death is as important as a cumulative total. Our work is a small contribution to the ultimate aim of establishing a complete register of all victims, honouring their lives and memories, and documenting the circumstances of their death. 9-11 has its memorials, where each victim is honoured and remembered. Iraqi victims need and deserve no less.