Presentation made to a panel discussion on "Civilian Deaths in Iraq: Quantitative Estimates and Policy Implications," held at the United States Institute for Peace (USIP), Washington DC, 10 Jan 2007.
Example:
"IBC ignores Arabic media that reports many deaths missed by Western media."
IBC sources include
Some Middle Eastern media that publish in English
Many more English translations of Middle eastern print and TV media via subscription-based mointoring services
No actual evidence of major discrepancies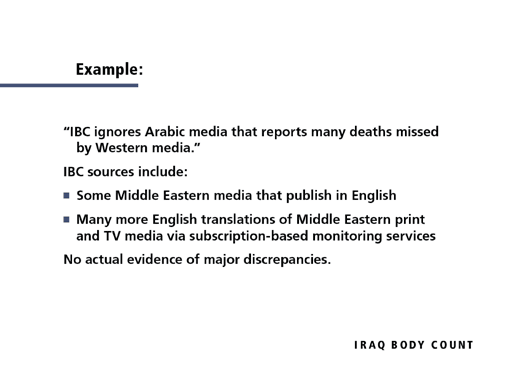 The third criticism appears to be based on a misunderstanding of what is actually available in the English language. Our sources include not only the growing number of Middle Eastern and Iraqi sources that publish in English as well as Arabic, but also daily and comprehensive English translations of Arabic media in Iraq provided by subscription-only services – including transcriptions of TV reports detailing security incidents.