In early 2006 IBC was invited to introduce its work at a Working Group Meeting on methods used by researchers to estimate armed conflict deaths (organised by the Small Arms Survey, Geneva, 17 Feb 2006).
Well-received by experts at the meeting, On Iraq Body Count summarised the project's key features and innovations.
Resource issues
no special expertise needed
the work is relatively cheap
the work requires a 'closed' team
requisite web-technology expertise increasingly commonplace
the work requires a high time-commitment from some personnel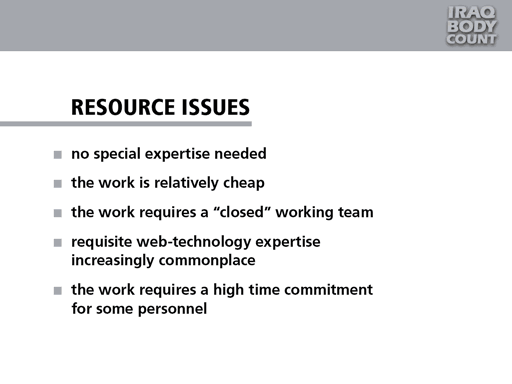 4.2 Features of our work: Resource issues
You don't need any special expertise to contribute to a project like this. Time, attentiveness to detail, and commitment are the most important attributes.

The work is relatively cheap, particularly when significant use is made of volunteers.

The work requires a "closed" working team that has established trust and common standards. This is not different to any professional reseach team.

The more complex technical aspects of the work involve web technology. This is an increasingly commonplace expertise.

Time commitment has to be high for at least a small number of personnel, whose continuous application is required. For instance, it is necessary to collect news stories on a daily basis, before they disappear or are obscured by new stories.