Senior IBC researcher and analyst Josh Dougherty has had lead responsibility for extracting civilian casualty information from the roughly 400,000 Iraq War Logs released by WikiLeaks, about which he has gained unparalleled insight.
Here Josh highlights some of the main features of the Logs' contribution to such knowledge, and the injustice of Julian Assange's continued imprisonment for making this unique public record possible.
Punishing the publisher
No-one has revealed more about the Iraq War's deadly impact than Julian Assange, and no-one is paying a higher price for doing so.
by Josh Dougherty
December 2020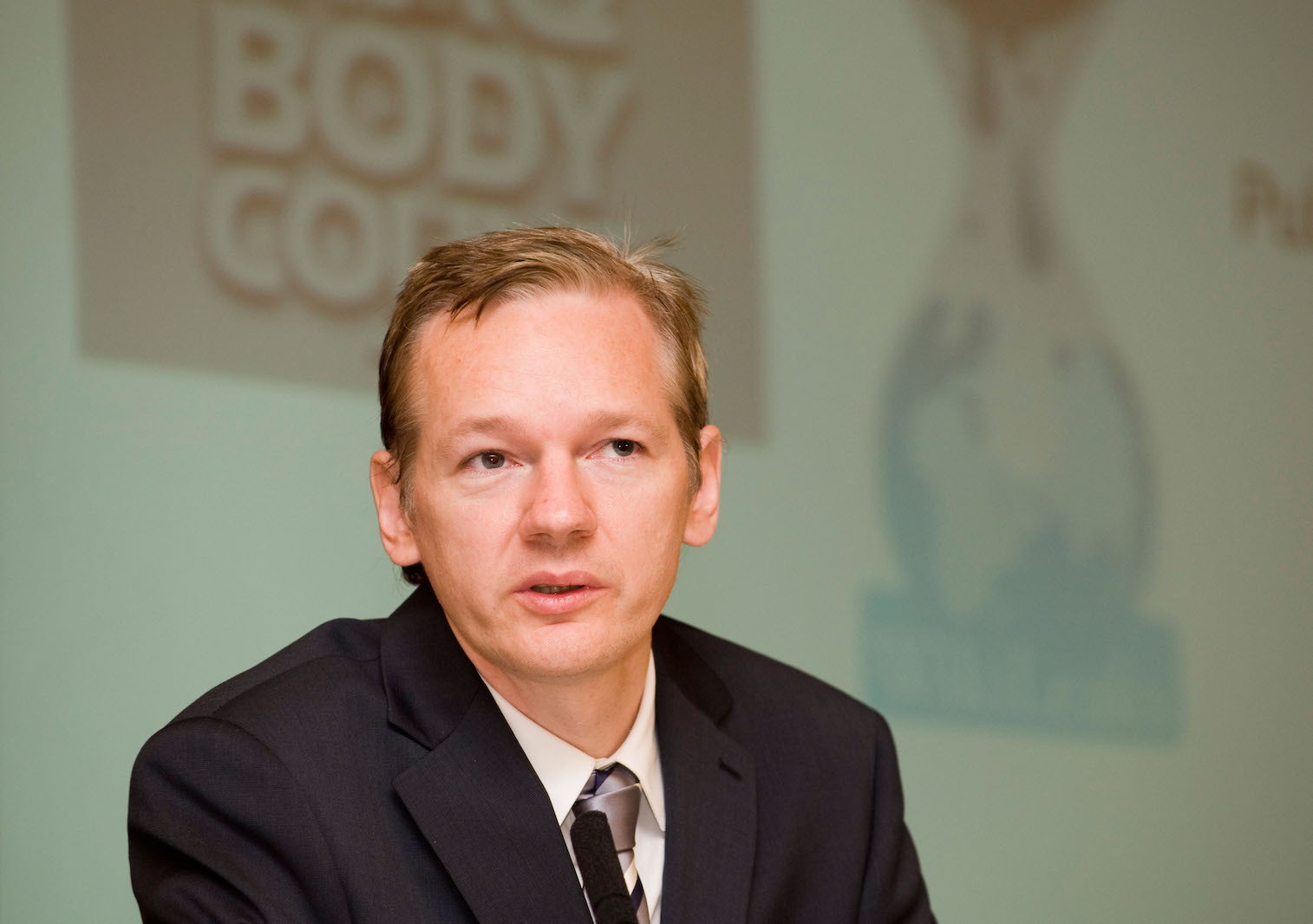 Julian Assange, director of the transparency group WikiLeaks, has been a de facto prisoner of the US and UK governments for over 8 years. The justifications for sustaining his imprisonment have varied over those years, and have now settled on a US indictment and extradition request for alleged crimes related to WikiLeaks' publication of US government documents in 2010. The three main publications in question are the Afghanistan War Logs, the Iraq War Logs and the State Department Cables.
All three sets of documents were regarded as Classified information by the US government and were provided to WikiLeaks by US Army private Chelsea Manning (then known as Bradley Manning) who had made copies of each set through her access as an analyst in the Army, and who has also been imprisoned by the US government multiple times for these disclosures. Manning had forwarded said documents to WikiLeaks as an act of conscience, believing the public needed to see these documents to understand the true nature and full human impact of these conflicts, waged by the government in their name.
Legal consensus is that the publication of such documents by WikiLeaks is protected speech under the First Amendment to the US Constitution. That being so, the US government has been effectively imprisoning and attempting to extradite Assange under novel charges that he somehow illegally helped Manning hack computers or avoid detection while copying the documents and/or transferring them to WikiLeaks, and by asserting that allegedly insufficient redaction of documents by WikiLeaks somehow made their publication an illegal act of "espionage". The very notion that a publisher is guilty of illegal conduct because he allegedly helped protect the identity of a government whistleblower and source, or that redaction practices must meet US government approval before publication is protected speech, has been a cause for alarm among human rights and press freedom groups, as well as among much of the general public who value free speech and a free press.
One such group is Amnesty International, who recently wrote,
"Authorities in the USA must drop the espionage and all other charges against Julian Assange that relate to his publishing activities as part of his work with Wikileaks. The US government's unrelenting pursuit of Julian Assange for having published disclosed documents that included possible war crimes committed by the US military is nothing short of a full-scale assault on the right to freedom of expression."
With a verdict on his case imminent on 4 January, Iraq Body Count joins this and other calls for an immediate end to the political persecution of Julian Assange by the US and UK governments. We do so not only due to the broader implications for freedom of expression, or the transparently political motivations of his prosecutors, but also because of the significant public interest served by the 2010 disclosures themselves. Of the three major 2010 disclosures, IBC is naturally most interested in, and most well placed to assess, the Iraq War Logs.
The War Logs' exclusive revelations
IBC was among a number of media organizations and research groups given pre-publication access to the War Logs, with the main area of interest for us the 109,000 deaths they reported, including 66,000 civilians. We spent over two months prior to the October 2010 release conducting an analysis of these records and found that they contained an estimated 15,000 civilian deaths that had never been reported publicly before. Iraq War Logs: What the numbers reveal
They also contained an enormous amount of corroborating information and additional new details about thousands of victims and previously reported incidents. Iraq War Logs: The truth is in the details
A substantial amount of the War Log information has now been integrated into the IBC database, but that work is still incomplete and ongoing due to limited resources and the need to prioritize recording and analysis of the still ongoing civilian deaths in the Iraq conflict. So far, IBC has added over 4,100 new incidents to the database found exclusively in the War Logs, containing some 5,400 civilian deaths, and has added corroborating information or additional details for another 10,000 deaths.
A list of all the new incidents added to the IBC database from the Iraq War Logs so far can be browsed here: Incidents added to the IBC database from the Iraq War Logs
Such incidents include shootings, executions, car bombs, roadside bombs, mortar and rocket fire and a wide range of others. Yet the value of all this information can be difficult to digest without looking closely at the details. To help illustrate, we look at just a few types of incidents where the Logs have been particularly valuable.
Drive-by shootings
One common type during the 2004–2009 period covered by the War Logs is the drive-by shooting. Many such incidents were reported by news media and other sources during this period, but hundreds of such incidents were revealed for the first time with the publication of the Iraq War Logs. Just a few examples include:
On 7 December 2008, in west Baghdad, gunmen riding a motorcycle shot and killed two men, a policeman from Fallujah named Muhammad Ibrahim Hashim and a labourer from Abu Ghraib area named Hussam Ibrahim Ali. IBC Database entry d7258

On 28 January 2004, in Mosul, northern Iraq, four gunmen in a taxi opened fire on a police patrol in the northeastern section of the city. One civilian was killed and another injured. IBC Database entry d6263

On 14 April 2009, in Baghdad, gunmen in a vehicle opened fire on another vehicle driven by a man named Anwar Abd Al Sahib in the Allawi area of the city. The man later died of his injuries at Al Karkh hospital. IBC Database entry d8256

On 5 May 2009, in Dhi Qar, southern Iraq, "unknown gunmen driving a white Toyota" shot and killed a man named Haidar Adnan while he was driving in Arido neighborhood. IBC Database entry d8210
Summary executions, often with torture
Another type of incident, all too common during the Iraq war, is killing by execution. The killing of captive persons, whether civilian or combatant, is categorically a war crime under international law. Yet such killings were commonplace during the 2004-2009 period covered in the War Logs. Indeed, such cases were reported in large numbers across a wide range of news media and other sources during that period. However, here too the War Logs reveal thousands of execution cases previously unknown to the world. Just a few examples include:
On 4 June 2004, in Kirkuk, the bodies of two young men from the same family were found near a stadium. They had been kidnapped the previous night. IBC Database entry d6847

On 15 August 2009, in Sadr City, Baghdad, the body of an unidentified male was found with gunshots all over his body and signs of severe torture. The use of torture on captives was an alarmingly common feature of execution cases during the period. IBC Database entry d7301

On 14 December 2009, in Tall Afar, Ninewa, a detainee with his hands bound was beaten and shot to death in the street by a group of Iraqi Army soldiers. The killing was captured on video and later shared with the US military. IBC Database entry d7551
Deadly 'Escalation(s) of Force'
Another type of incident where the War Logs have been particularly valuable is known as "Escalation of Force" (EOF) incidents. The term EOF refers to an incident where US or other allied forces use escalating methods of force to halt a perceived threat. These typically occur at checkpoints or military patrols, and usually involve approaching vehicles or pedestrians considered a potential threat.
The number of civilians recorded killed in such incidents in the IBC database is over 1,500, with the worst year being 2005. During that period, such incidents occurred every day, often multiple times a day, with an average of between 1 and 2 civilians killed.
The War Logs contributed hundreds of such incidents that had never been publicly known before. The Logs were, in fact, a more useful source for these kinds of incidents than any other source used by IBC, contributing nearly half of all EOF incidents recorded. Without these documents, there would be considerably less known of the scale and scope of such incidents, where they occurred, how many were killed, who was killed, and so on. Below are just a small sample of these incidents exclusive to the War Logs:
On 22 July 22 2005, near the Subaihat region of northeast Fallujah, US Marines fired 30 rounds at a vehicle that broke a "no penetration line" while approaching their post. The vehicle contained a family of a father, mother and four daughters. The mother was killed, while the father and three of the children sustained injuries. IBC Database entry d4868

On 8 August 8 2005, near Haqlaniyah, Anbar, US Marines attempted to use "hand and arm signals" to stop a vehicle approaching their position "at a high rate of speed". When the vehicle did not respond to the signals, they opened fire, killing the "MAM" (military aged male) driver. A search of the vehicle revealed "NSTR" (nothing significant to report). IBC Database entry d4874

On 7 November 2005, on the Najaf-Diwaniya road in southern Iraq, a US Army patrol near a police checkpoint fired on a dump truck that "ignored the flashing lights to stop or slow down." The driver later died from the injuries. IBC Database entry d4908

On 14 November 2005, west of Ramandi, US Marines fired on a civilian vehicle that "failed to yield to spot light signals" or respond to warning shots. One passenger was killed and another sustained a gunshot wound to the arm. IBC Database entry d4911

On 22 July 2006 in Mosul, northern Iraq, a US Army patrol opened fire on a civilian vehicle, killing a man named Mezzal Qasim Jurjis. The Iraqi police transported the body to a local hospital and it was recovered by his family. IBC Database entry d4978
All of the incidents listed in the above sections, and all of the victims they report, and in many cases including evidence of war crimes, would be unknown to the public were it not for the 2010 publication of these documents by Julian Assange and WikiLeaks. This is almost certainly the case because other such records must exist for later years such as 2010 and 2011, when US ground forces were still active in Iraq. Yet all such documents are still hidden to this day by the US government, making almost certain that were it not for the 2010 WikiLeaks publications, all of the 2004-2009 information would still be hidden as well, and would likely remain hidden for many years to come, perhaps even forever.
Detailing the reality of war
As valuable as the types of information described above already is, the contribution of the Iraq War Logs goes well beyond the new deaths they revealed. For example, the single most famous WikiLeaks publication is probably the "Collateral Murder" video, released some months prior to the War Logs, showing US helicopters gunning down a group of men in Baghdad, including two Reuters journalists. The video captured worldwide attention. The public was aghast at how casually, even eagerly, civilians were gunned down, effectively executed from above, but the video did not actually reveal any new deaths that weren't already known. The incident had been reported before, and that Reuters journalists had died, but the previous reports were relatively vague and didn't capture the true nature, brutality or specifics of the incident the way the video did. Not only did the video corroborate the deaths previously known, it also shed new light on them in a way previous reporting could not.
Likewise, the Iraq War Logs do not always reveal new deaths that were entirely unknown, but have also corroborated thousands of previously reported incidents, and very often added more details about the incidents themselves and the victims who died or sustained injuries in them. This is of no small value for a number of reasons. For one, much of the reporting on incidents in the Iraq war derives from local Iraqi sources that some may feel warrant doubt. Some in the West may presume local sources could be exaggerating or making things up for political reasons or due to a grudge against the US or other occupying forces. Any such doubts can be quickly put to rest when the facts of an incident are corroborated by the US military's own internal reporting in the War Logs, and a more broadly shared confidence in the factual record of the war and its consequences can emerge.
Individualising and naming the victims
The War Logs also very often add important new details about previously known incidents or victims that allows for a clearer and more detailed picture of the daily violence and human losses to emerge. As just one example among many of how the War Logs enhance existing reporting:
On 1 May 2007, Reuters, McClatchy and several other news agencies reported on the bodies of shooting and execution victims found by police around the city of Baghdad, listing total numbers found during the day in various neighborhoods, including 4 in the Bayaa neighborhood of southwest Baghdad. The War Logs contain four distinct records of such victims in specific locations in Bayaa neighborhood on 1 May, with details including that the victims were found with hands bound and blindfolded in two cases, and the name of the victim in another case. While it is not possible to say the War Logs revealed any new deaths in these cases, as the facts are all consistent with previous reporting, they do both corroborate the existing record and allow a single aggregated record of little detail to be separated into four distinct incidents with specific locations, times and additional details about each case and the victims killed. IBC Database entry k6248b
The War Logs also often reveal important new information about recorded victims. For example:
On 25 February 2006, in a village south of Baqubah, unidentified gunmen stormed the home of a Shia family and killed twelve men. This event was reported by multiple media sources at the time, but these reports offered few details, and victims were never named. The War Log record adds considerable details on the incident and additional demographic information on the victims, as well as, for the first time, listing the names of all twelve of those killed. IBC Database entry k2608
Every other kind of abuse and dereliction
The revelations in the War Logs went beyond deaths or casualties of war with the documentation of widespread detainee abuse and torture, including multiple reports showing that US troops were ordered to ignore evidence of torture by their Iraqi security force partners and continued handing detainees over to forces they knew were using torture. Some examples of media reporting informed by this:
US troops ordered not to investigate Iraqi torture

Iraq war logs: secret files show how US ignored torture

Obama administration handed over detainees despite reports of torture
The worst response for the best reporting
These and many other stories uncovered in the War Logs were featured prominently across a range of major international news media including the New York Times, the Guardian, Al Jazeera, Der Spiegel, La Monde and others.
In sum, the Iraq War Logs greatly expanded public knowledge and understanding of the Iraq War and its relentless daily catalogue of victims living and dead. This is exactly what journalistic publications should be doing, and what a free press is for. What Julian Assange and WikiLeaks did in 2010 was arguably the single most important journalistic publication of the entire Iraq war. They should be celebrated and rewarded for it. The US and other governments have instead been determined to punish them for it.
Time is running very short for Julian Assange. He could soon be plunged into the labyrinth of the US justice system, with enormous political powers arrayed against him. Journalists must take a stand, including those from publications that made prominent use of WikiLeaks disclosures in 2010 – in particular the New York Times and the Guardian – as well as all who care about press freedom.
Now, when it counts, is the time for those of us with a public voice and platform to speak in the name of the freedoms we espouse and claim to hold dear.