Who has used IBC, and for what? Here are the main categories of use, with examples of each.
Uses of IBC by activists
Naming the dead
IBC has systematically collected names of those known to have been killed in the US-UK invasion and its aftermath.1
Activists worldwide have incorporated these names into installations and travelling exhibitions ( e.g. the "Eyes wide Open" exhibition organised by the American Friends Service Committee and shown in many major US cities Eyes Wide Open and Iraq Body Count (AFSC, 17 Sep 2004), and readings of lists of names at commemorative events.
In November 2004, led by Ruth Boswell and the UK "Stop the War Coalition," names of Iraqi casualties were read out at simultaneous naming ceremonies in over 12 cities worldwide.
One activist, Milan Rai, has been convicted and jailed under the new UK Serious Organised Crime and Police Act, for reading names of Iraqi dead in a "prohibited" location outside the UK Parliament.
In March 2007 a six day reading of names of those killed in Iraq was organised by New York "Grannies for Peace" outside the Army Recruiting Centre.
Sponsored by the Fellowship of Reconciliation, the Iraq Memorial to Life is a project to memorialize Iraqi war victims by means of a printed marker in memory of each civilian death documented by IBC, in public events timed to coincide with anniversaries of the 2003 invasion (in 2010, on 14th March in NYC and 18th-20th March in Washington DC).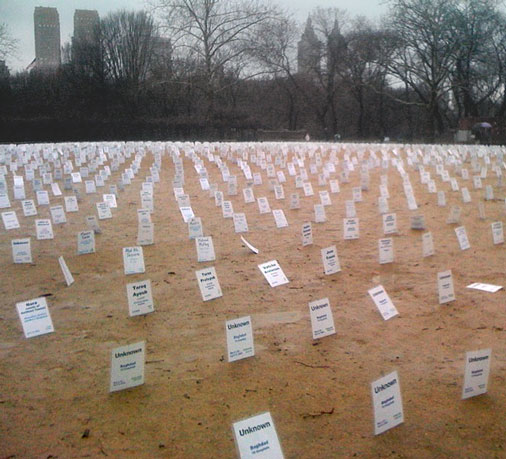 Iraq Memorial to Life in NYC, 14th March 2010
These are some of the many similar events commemorating the deaths of Iraqis which rely on IBC's detailed data gathering, not always, but sometimes also, at personal risk to those commemorating them.